Phone Sex Mistress
Get dominated and humiliated by a Phone Sex Mistress by calling 1-888-432-2352 for only $1.69 per minute. Cheap Phone Sex rates are explained on the preamble recording when you call. You must have a credit card because we cannot bill your telephone. Call for free now to get the details!
A Phone Sex Mistress will show you ways to experience many forms of domination, humiliation, submission, forced feminization, forced masturbation, fetish talk, slave training, sissy maid fantasies, cbt or cock, and ball torture, sissy slut or panty boy abuse, spanking, roleplay, cross dressing fetishes, strap on fantasies, and so much more. Your personal Phone Sex Mistress already knows how pathetic you and she will get medieval on your ass to prove it. So loser boy… expose your freakiness to one of us… and we'll take you to hell and back.
A dominatrix or mistress is a woman who takes the dominant role in bondage and discipline, domination and submission, and/or sadomasochistic sexual practices, which are commonly abbreviated as BDSM. The male equivalent is master. A common form of address for a submissive to a dominatrix is "Mistress" or "Ma'am".
A Phone Sex Mistress caters to every BDSM fantasy. Our Mistresses are Specialists in some of the following areas: Bondage, Cross Dressing, Humiliation, Degradation, Verbal Abuse, CBT, cock and ball torture, slavery, masturbatrix fantasy, sissification, interrogation, money slavery, trampling, giantess fantasy, nipple torture, sex toy instruction, Slave Training, Spitting, Whipping, Paddling, Strict Discipline, BODY WORSHIP, Creative Bondage, Erotic Hypnosis, FACE SITTING, OTK Spankings, Anal & Strapon Training, Cock Sucking Training, Cuckolding, Ball Kicking, Ball Busting, Cruel Humiliation, Orgasm Tease & Denial, Cock Control, Chasity Training, Shoe Leg Foot Worship
Phone Sex

Fetish Phone Sex is our Specialty

Calls are $1.69 per minute and they MAY vary so please listen to the Preamble very closely so you can make the right choice for your wallet AND your desires! Some rates are subjected to different prices but it will be explained in detail. Please listen closely and have your credit card ready.
No Connection charges. Simple automated billing by phone. Billing is Discreet and we never mail anything to your home. Your information is kept secure.
There are NO TABOOS. We have no rules, terms, limits, or restrictions on topics that can be discussed. Our Babes talk about anything and everything. Your conversations are not monitored or reported, and your account can never be blocked or banned because your fantasy is considered too "extreme". We are Open 24 hours per day and 365 days per year including holidays.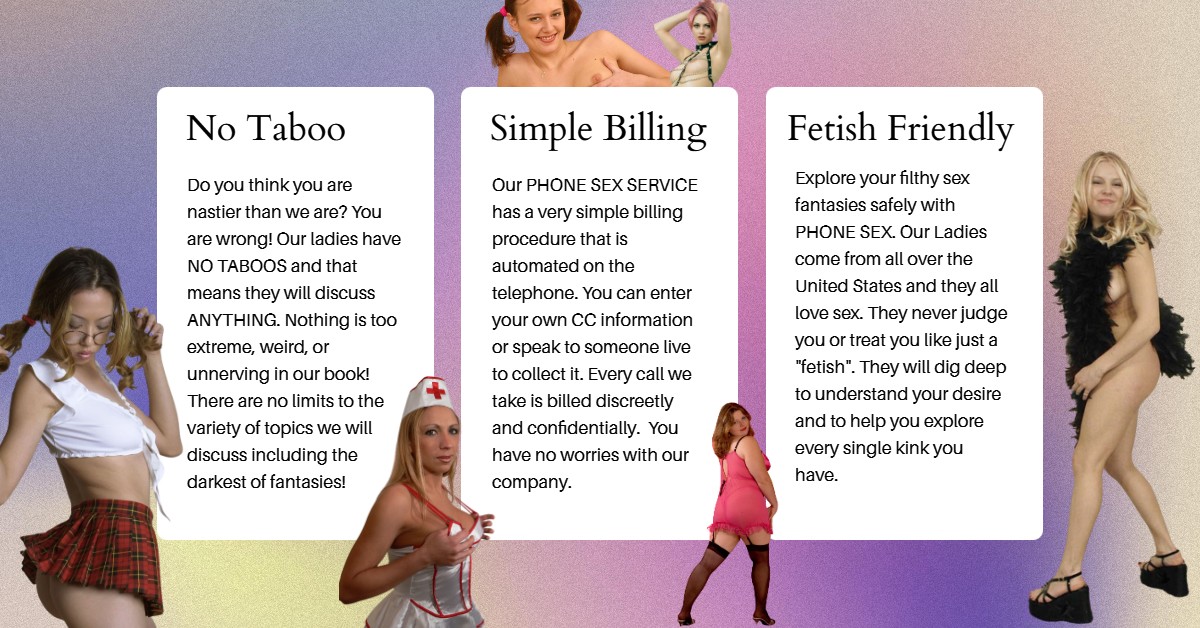 The Basic Terminology and Styles of Domination
24/7 BDSM: A relationship in which protocols are in place continuously.
Animal transformation fantasy: Fantasy in which the focus is on the sub entering the altered mind space of a different species, typically a dog, pony, or horse.
Abrasion: Using something rough (such as sandpaper).
Aftercare: The time after a BDSM scene or play session in which the participants calm down, discuss the previous events and their personal reactions to them, and slowly come back in touch with reality. BDSM often involves an endorphin-high and very intense experience, and failure to engage in proper aftercare can lead to sub drop as these return to more everyday levels.
Age play: Usually referring to daddy/daughter or mommy/baby role play. Does not usually include or imply aspects of incest, but rather the nurturing relationship of parent/child or teacher/student.
Anal torture: The BDSM practice of inflicting pain on the anus.
Animal Play: The sub acts or dresses like an animal (puppy, pony, cow, etc.).
Auctioned off: Dom/me auctions off the Slave to the highest bidder (usually supervised and for temporary use).
Bad pain: Good pain and bad pain are terms used lightheartedly by BDSM practitioners, signifying that whilst BDSM may include an element (often quite pronounced) consensual pain, there is a purpose to it, and some pain is consented to and accepted whilst other pain is not. "Bad pain" is pain that is outside hard limits, non-mutual or non-valued, not wished for, and of limited or no value in this context.
BDSM: Bondage/Discipline, Dominance/Submission, Sadism/Masochism
Bottom: submissive or one who gives up control, or simply one who receives physical sensation from a Top in a scene.
Breath Control: The Dom controls the sub's breathing.
Butt plug: Much like a dildo, only shaped slightly differently. They come in a variety of sizes; some can vibrate.
Chastity: a form of erotic sexual denial or orgasm denial whereby a person is prevented from access to, or stimulation of, their genitals, save at the whim or choice of their partner, usually by means of a device (called a chastity belt or sometimes for men a cock cage) that prevents contact and is controlled by means of a lock by the partner.
CBT: Cock and ball torture
Collared: Submissive or slave who is owned (usually in a loving intimate relationship)
Collaring: The formal acceptance by a dom, of a sub's service. Also, the Ceremony is when a Dom commits to a sub (much like a wedding).
Consent: Mutual agreement to the terms of a scene
Consensual non-consensuality: A mutual agreement that within defined limits, or subject to a safe word or other restrictions, and commonsense, consent will be given as read without foreknowledge of the exact actions planned. As such, it is a show of trust and understanding and is usually undertaken only by partners who know each other well or otherwise agree to set clear safe limits on their activities.
Contract: A written-out agreement between the Dom/me & sub. It can be either formal or not and is usually written after much negotiation by the Dom/me and the sub, outlining what structure, guidelines, rules, and boundaries to the relationship are agreed upon by the two. It is NOT legally binding but should be taken seriously.
Dominant (dom/domme) (also dominatrix)
Domme: Female who takes control (contraction of dominatrix)
D/s: Domination/submission
Dungeon: Usually referring to a room or area with BDSM equipment and play space
Edgeplay: SM play involves blood, permanent marking, knives, or fire, sometimes with a greater risk of danger.
Erotic sexual denial: keeping another person aroused while delaying or preventing resolution of the feelings, to keep them in a continual state of anticipatory tension and inner conflict, and heightened sensitivity. Also, see tease and denial, and chastity.
Fetish: A specific obsession or delight in one object.
Good pain: Good pain and bad pain are terms used lightheartedly by BDSM practitioners, signifying that whilst BDSM may include an element (often quite pronounced) of consensual pain, there is a purpose to it, and some pain is consented to and accepted whilst other pain is not. "Good pain" is therefore pain that is mutually agreed, desired or permitted by the submissive partner to be experienced, and seen by them as of enjoyment or value.
Golden showers: Urinating on, or being urinated on by, another person.
Hard limits: What someone absolutely will not do, usually non-negotiable.
Harem: A group of subs serving one or more Dom/mes.
Impact play: Part of sensation play, dealing with impact such as whips and riding crops.
Infantilism: Parent/child or parent/baby role-playing.
Knife play: Slow, methodical sensation of the bottom with the edges and points of knives, usually without cutting the skin. Fear of the weapon plays a large part in the stimulus of the bottom.
Limits: What someone "won't" do or is hesitant to do
Masochism: Act of receiving pain for sensual/sexual pleasure.
Masochist: Person who enjoys pain, usually sexually.
Mummification: Immobilising the body by wrapping it up, usually with multiple layers of tight thin plastic sheeting. Breathing and other safety measures must be appropriately taken care of, often by leaving the face (or at least the mouth and nose) open. Body temperature (maintained to an extent by movement) may also be affected so a warm environment and warm aftercare may be important. Mummification is often used to enhance a feeling of total bodily helplessness, and incorporated with sensation play.
Needle play: Temporary piercings done with sterile needles of varying gauges, usually only for the duration of a scene.
Newbie: Someone new to BDSM.
OTK: Over the knee (spanking).
Pain slut: A person who enjoys receiving a heavy degree of pain but may or may not necessarily enjoy submitting.
ProDomme: Female professional dominant (charges money)
Ponygirl or Ponyboy: Sub is dressed in a pony outfit, with a mouth bit and an anal plug with a tail. They are told to prance or behave like a pony.
Puppy Play: Sub is made to act like a puppy. Sub barks, whines, eats from a bowl, etc. Such play is almost never sexual but rather focuses on the altered mind-space of the bottom/pup.
Sadism: The act of inflicting pain.
Sadist: A person who enjoys inflicting pain, usually sexually.
Safe Word – When a participant utters a safeword, BDSM activity stops.
Scat play: Feces play
Scene: A time period of BDSM activities.
Sensation play: BDSM play where the intent is to push people's sensory limits, thus exploring texture, and sensory deprival, through to whips, flagellation and edgeplay.
Session: A time period of BDSM activities with a ProDom/me.
Slave: Person who gives up a great degree of control in an ongoing D/s relationship, sometimes with few remaining limits. Often those who identify as "slaves" have a great desire for being of service to their dominant, sometimes referred to as "service-oriented submission."
Slave Position: Also called The Pleasure Position. Sub is kneeling, legs spread, head down and hands on thighs, with palms up
Soft Limits: Something that someone is hesitant to do or nervous to try. They can sometimes be talked into the activity.
Sub drop: A physical condition, often with cold- or flu-like symptoms, experienced by a submissive after an intense session of BDSM play. This can last for as long as a week and is best prevented by aftercare immediately after the session.
Submissive, or "sub" for short. A person that gives up control either all the time or only during a scene
Subspace: A "natural high" that a sub gets during a scene or when being controlled.
Switch: Someone who likes being both Dominant and submissive, either in one scene or on different occasions.
Tease and denial: keeping another person aroused while delaying or preventing resolution of the feelings, to keep them in a continual state of anticipatory tension and inner conflict, and heightened sensitivity. Also, see orgasm denial.
Top: Dominant person either all the time or only during a scene.
Topping from the bottom: A submissive who nonetheless wants to direct the top.
Training: Either referring to a short period of time (a scene) or an ongoing effort of the Dom/me teaching the sub how to act. Can either be a playful thing or a serious thing, depending on the couple.
Vanilla: Someone who is not in the lifestyle. Alternatively, sexual behavior which does not encompass BDSM activity. The term is sometimes used in a derogatory sense.
Wannabe: Someone who thinks or claims to be knowledgeable about BDSM, but is not. Especially prevalent with new Doms.
Wax play: The Dom/me drips hot wax on the sub.